A Tribute to Alessandro Dal Lago
References
Bobbio, N. (1995). Ideological Profile ofTwntieth-Century Italy. Edited by L. G. Cochrane. Princeton: Princeton University Press.
Dal Lago, A. (1989). Simmel, nostro contemporaneo. Rassegna Italiana di Sociologia, XXX(4), pp. 525–550.
Dal Lago, A. (1994). Il conflitto della modernità. Bologna: Il Mulino. Dépelteau, F. (2018). The Palgrave Handbook of Relational Sociology.
London: Palgrave Macmillian.
Fitzi, G. (2019). The challenge of Modernity. London/New York: Routledge.
Fitzi, G., Mele, V. and Magatti, M. (2018). Life and Forms, The Sociological Meaning of a Metaphor, Simmel Studies, 22(1), pp. 135–169.
Giglioli, P. P. (2022). Alessandro Dal Lago (2 settembre 1947; 26 marzo 2022). Etnografia e Ricerca Qualitativa, XV(1), pp. 187– 188. doi: 10.3240/103756.
Köhnke, K. C. (1996). Der junge Simmel in Theoriebeziehungen und sozialen Bewegungen. Frankfurt a.M.: Suhrkamp.
Pyyhtinen, O. (2017). The Simmelian Legacy. A Science of Relations. London: Palgrave Macmillian.
Pyyhtinen, O. and Beer, D. (2018). Georg Simmel's Traces: An Interview with Olli Pyyhtinen. Theory, Culture & Society, 35(7– 8), pp. 271–280. doi: https://doi.org/10.1177/0263276418799878.
Vattimo, G. and Rovatti, P. A. (2012). Weak Thought. Edited by P. Carravetta. New York: SUNY Press.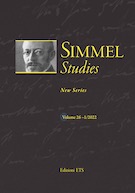 Downloads
License
This work is licensed under a Creative Commons Attribution 4.0 International License.
This journal provides immediate open access to its content on the principle that making research freely available to the public supports a greater global exchange of knowledge.
Simmel Studies is published under a Creative Commons Attribution Licence 4.0.
With the licence CC-BY, authors retain the copyright, allowing anyone to download, reuse, re-print, modify, distribute and/or copy their contribution. The work must be properly attributed to its author.
It is not necessary to ask further permissions both to author or journal board.